don't just discplay,
become a star
1. How to become a model?
Download and run the discplay.me app. Click "Upload" button to join and became a creator.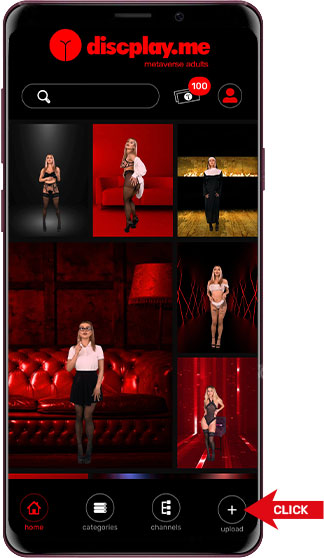 Please select the type of account you want to create (individual model or studio). You will be asked to complete two registration steps.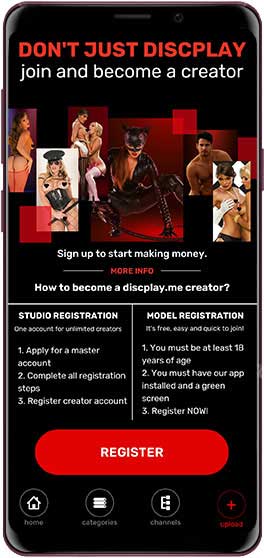 Step 1.
Documents, Contact information, Agrement
Please upload official documents, photographed using the app
ID
- let's us make sure that it's you
Please take a snapshot of your document with a photo ID clearly showing your photo, date of birth, and signature. Expiry date – please choose the correct expiration date of your document.
Take a Snapshot of Your Face
Please take a snapshot of your face
Take a Snapshot of Your Face and ID
Please take a high-quality snapshot of yourself holding your ID near your face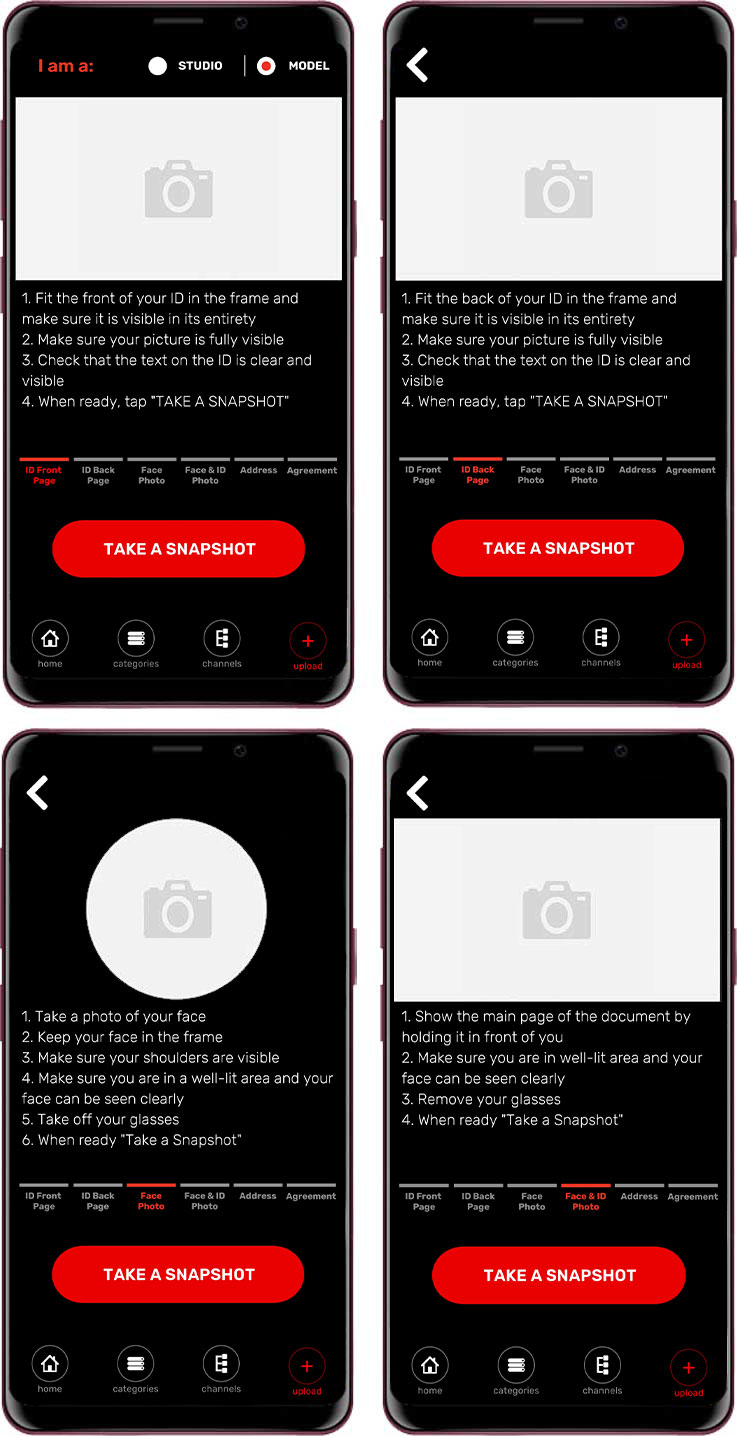 CONTACT INFORMATIONS
- let's us make sure that it's you
Make sure to indicate correct and reliable information, discplay.me creator agreement will include the information provided. All the information is 100% confidential and is not available to any of the app user.
AGREEMENT
Upon reading the agreement, please check your full name and date of birth, accepting the agreement terms at the bottom.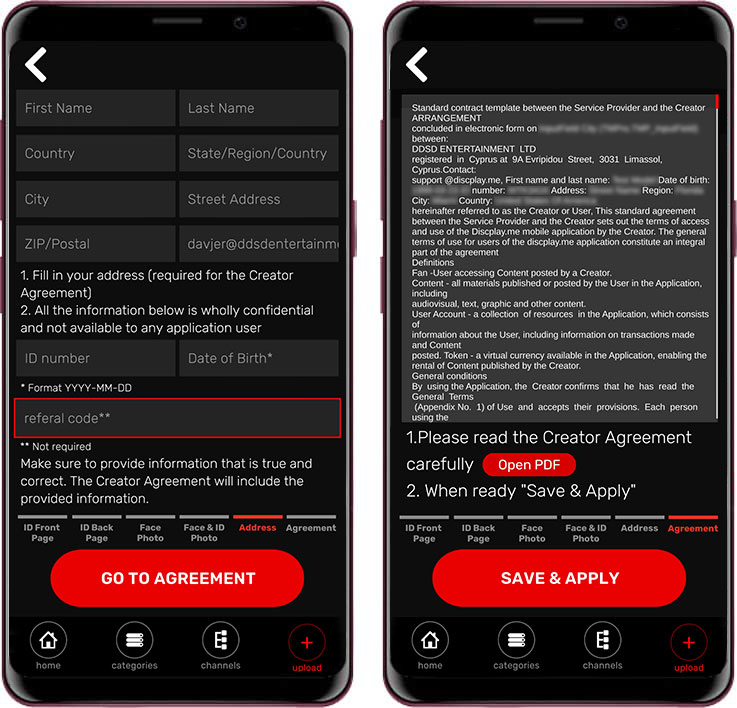 Step 2.
Activation
Please confirm your email address and wait for the administration to activate your account.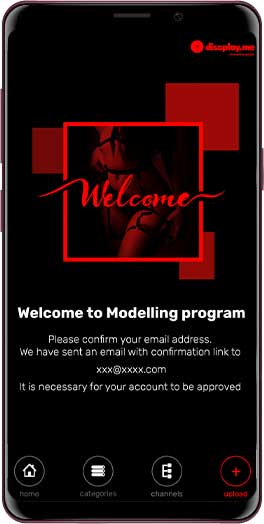 2. How to make money with discplay.me app?
The rules are simple, every time, when someone discplay your hologram, you earn. So, how to start? It's very easy: First of all, get the app and sign up in modelling program. Remember that all our creators, during the registration, have to verify their age with id document. All adults 18+ are welcome. When your application has been approved, you could start earning money. Just use mobile phone, make your video on green background and upload in the app. The discplay.me app will do the rest for you. Your own AR hologram will be ready in a few seconds.
Below, we will share some tips on how you can earn money in our app:
We recommend clearly inform users what kind of hologram they will see. When you will be uploading the video fill in the fields: Title, short description, tags (it will help user to find you), choose the category and put the amount for the one view, for example:
During video recording if you want to say something use English! Smile and be in a good mood in front of the camera.
Members come to discplay.me to have fun. Perform small shows, tease your guests, dress sexy.
The best time for one show is around 5:00 minutes or more.
When you are recording keep toys, accessories, and other items necessary for your show at hand.
Price Police: High rates for connecting with yours hologram is great, but the most modern way to earn money is small steps. Top models make 80-90% of their earnings on them. Imagine if you want to a hundred dollars for your show, it can be (and probably is) too expensive for one person. But if 20 members chip in $5.00 each, none of them will end up spending too much, whereas you get a lot of money for just a few minutes! Regularly adding new materials can help you earn good money without having waiting for a big fish!
If you are new on the dicplay.me app, do not be discouraged if in the first few weeks your income is small. Most of your earnings will come from the regular members who come to see you and your shows.
If you are new on the dicplay.me app, do not be discouraged if in the first few weeks your income is small. Most of your earnings will come from the regular members who come to see you and your shows.
Remember a show prepared once, it earns for you all the time
3. How do I increase my earnings?
Guide to Becoming the Best Discplay.me Model
Step 1.
Introducing
When you are starting at discplay.me it's a good idea to prepare intro hologram. It will help you introduce yourself (nickname, what do you like) and tell about your channel (what type of content they will find). Everyone, no matter who they are, appreciate when intro hologram is free. This personal touch will make the hologram experience more realistic and worthwhile for members.
Step 2.
Video Recording
The most important thing is film yourself in front of the green screen READ MORE. Remember about lighting to reduce the amount of shadows on the green screen.
Your whole body (including feet) have to be captured on green screen. You don't need to professional Green Screen you can DIY, more info in section "How to prepare a green screen video material" and on our blog.
Remember to stay in the frame all the time during the recording and not to go beyond the green screen
Step 3.
Clothes
You probably know how to get your fans' attention and you know exactly what to wear. We are given the freedom to express your style – please use it!
Create and be yourself, members will appreciate the realistic nature as it comes through. Please pay attention to the colour of the clothing you are wearing. Never use green-colored clothes (including shades), clothes with elements of green, green hairs or green accessories

wrong
4. How often do I get paid?
Payments are made every Friday for the previous week's earnings. Our payment period is seven days. Minimum payment amount is $100. If you do not reach the minimum payout threshold your payment will be put on hold until you earn the required minimum.
5. Payment Methods
For your convenience, we offer a wide range of payments methods. Feel free to choose the one that suits your needs best. The following payment methods are available:
Paxum (no fees)
ePayService (no fees)
You could choose your payout method in creator panel.
6. Why is the discplay.me app only available on Android devices?
Unfortunately, the Android version is the only one available at the moment. Although discplay.me app follows all the security guidelines, App Store and Play Store does not allow apps with explicit content on their app store.
7. How to download and install discplay.me app?
Safety
Discplay.me app offers extensive security features to ensure that you can enjoy a safe and private entertainment. To avoid any risk, You should download and install app only from official websites.
Supported devices
Android only – check the list compatible devices with Augmented Reality
Download
Go to the download section: Create Account and choose a payment method. You will be redirected to secure gateway. After accepting the payment you will be able to download the application. You will receive an individual code to activate your account. We also sent a link to download the app, invitation code and instructions on how to install the app to the e-mail provided during registration.
Install
Download the app on your Android devices
Open the file from the notification area or from your download folder
Select install
You may have to allow Unknown Sources at Settings --> Security Screen
8. How to prepare a green screen video material?
It's actually very simple to make your own Green Screen videos in home with minimal equipment and technical skills.
Step 1.
Create a Green Screen
You could DIY, or buy simple green screen kits, wright now there are cheaper than ever. Just type in your browser "Green Screen kit" or "You tube Kit". The cost is effective and a good go-to resource. If you want to DIY green screen. Find a solid green fabric and cut to your own specifications. Fasten the fabric in a suitable, bright place and make sure it does not crease.
Step 2.
Set up your phone camera and lighting
Ensure the phone camera is placed in a position which allows the green screen to completely fill the background of the video recording. You could use tripod with smartphone holder. Make sure you have good lighting with as few shadows as possible.
Step 3.
Start recording
Your whole body should be captured on green screen.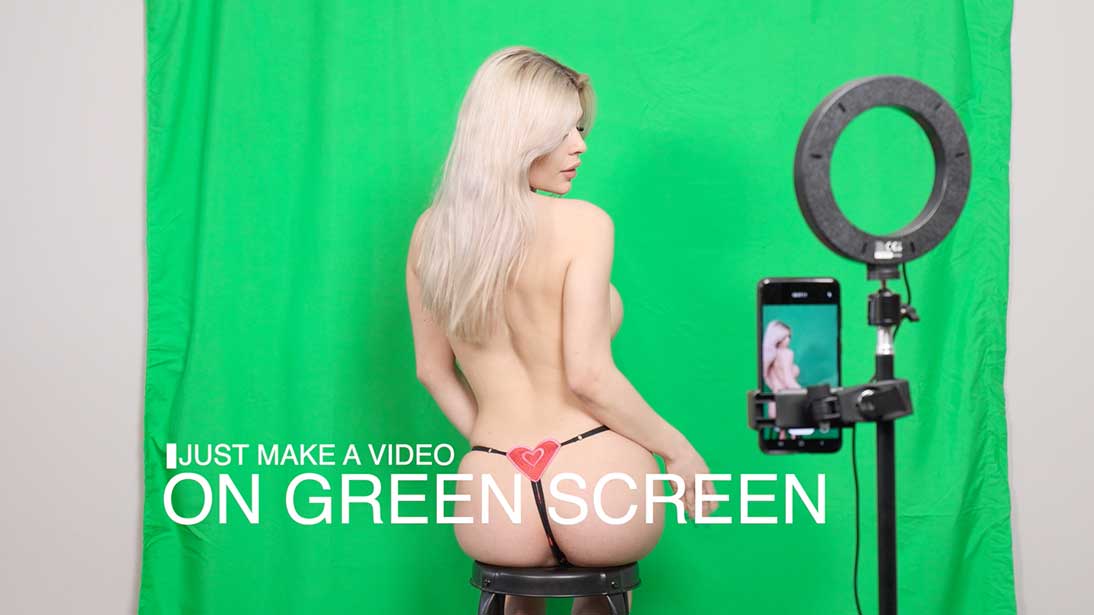 9. What should I do if I have any questions not covered in this FAQ?
In case of any issues or questions, please contact our support team at: support@discplay.me